Decay Tube: Half-Way Point passed - 4 February 2004
With the installation of No. 28 of the 18 metre long decay tube section in the decay tunnel, the half-way point in the construction of this 998 metre long vacuum tube has been passed on 4 February 2004.
The installation was started on 18 November 2003. Progress is now very steady, with one 18 metre long section installed, welded and concreted every 24 hours. Completion of the decay tube installation is planned for March 2004, and will be followed by a vacuum test.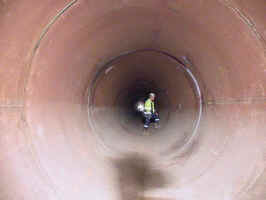 Inside the decay tube, looking downstream (9 January 2004)